Blindfold Games Can Be a Lot of Fun When Done Properly–Here's How to Tie, Twist & Tease Her for MAXIMUM Sexual Pleasure…
Click Here to Discover 3 Rough Sex Moves She'll BEG You For Again & Again…
Experimenting with kink can be a lot of fun. However, if you've never tried it before, it can feel scary or intimidating too.
These days, thanks to the explosive popularity of erotic romance novels (like Fifty Shades of Grey) and other sex acts that were previously deemed as "taboo," more and more women are opening up about their secret kinky fantasies.
TRENDING: If A Hot Girl Does This With Her Body It Means She Wants You Bad (Most Older Guys Totally Miss This!)
In fact, one recent study found that a lot of women are interested in a variety of sex acts — including being blindfolded during sex.
While blindfolding is on the "light" side of BDSM, it can still feel incredibly novel if you've never tried it before.
So today, I'm going to show you why some women love being blindfolded during sex…
And exactly how to do it for maximum pleasure.
Why Do Some Women Like Being Blindfolded During Sex?
Blindfolding is not terribly erotic on its own.
Nothing's really too sexy about just covering someone's eyes.
CONTROVERSIAL VIDEO: These Subtle Touch Tricks Get Her Soaking Wet, Naked & On Top of You In Bed (Even If You're "Just Friends" Right Now)!
However, when put in an erotic context, blindfolding can add an interesting, thrilling element to your sexual escapades.
Blindfolding relies on blocking out one of your senses — in this case, your sight.
This is the main reason why some women like to be blindfolded during sex:
It creates excitement and surprise, not to mention the sensory deprivation can make her feel everything else that much more intensely.
Even better, blindfolding is a pretty low-commitment introduction to kink.
But how exactly do you go about introducing blindfolding in the bedroom? After all, it might not be the best idea to just break one out mid-session and try to put it on her without explaining what you're doing.
With the right atmosphere, though, blindfolding can be a great way to make sex way hotter — for both of you.
So if this sounds like something you'd be interested in trying, just follow these 4 steps:
1) Find a Blindfold (Or Get Creative)
Getting started with blindfolding is pretty easy! All you really need is a blindfold and a willing partner.
The first step is to find a blindfold — and keep in mind that it doesn't literally have to be a blindfold.
Sure, you could spend money on a specialty blindfold from a sex store, but you could also use a scarf…
Pantyhose…
BRAND-NEW: This "Raging Bull Secret" That Helps You Last Longer In Bed Is Almost Sold Out (Click Here to Get It!)
Or really anything that you can comfortably tie around someone's head that will prevent them from seeing.
Beyond that, setting the atmosphere might not hurt. I'd personally recommend some candles and maybe some comfy blankets and pillows to make sure she feels safe and self-assured about the experience.
Which brings me to step two…
2) Make Sure She's Cool With It
It's true that wearing a blindfold isn't dangerous on its own, but you need to keep in mind the trust element of this act.
So before you decide to start experimenting with blindfolds in bed, ask her if she's into it.
TRENDING: If A Younger Woman Does This With Her Body It Means She Wants You Bad (Most Older Guys Totally Miss This!)
It doesn't have to be a whole drawn-out conversation or anything like that — in fact, you could even ask her during foreplay.
Something like, "Hey baby, have you ever thought about using blindfolds in bed? Is that something you would want to try?" Would be a great place to start.
Just listen to her, and don't feel rejected if she says no — the truth is, most women are willing to try new things in bed as long as the line of communication is open. 🙂
3) Keep Her Comfortable
This step seems pretty obvious, but it's also extremely important.
THE LATEST: If She Does This With Her Body It Means She Wants You BAD (Most Men Totally Miss This!)
Especially with blindfolding, it's important to make sure she's not in pain when you tie it on her (or else, giving her pleasure is going to be pretty difficult).
So as you're tying it on her, don't be too forceful. You can ask her as you're doing it how it feels to make sure.
It's true that yes, you want it to be tied snugly around her head; however, a blindfold that's tied too tightly can actually damage your eyes and mark up the bridge of your nose.
Beyond that, make sure that you tie it on the side of her head, so when she leans back, the knot won't dig into her skull.
Remember, her senses other than eyesight will feel more intense, and that includes her sense of feeling. So don't add any unnecessary pain (unless she's into that, of course).
4) Go With The Flow
Once she's all tied up and ready to go, it's now or never.
You could keep it simple at first and just have sex like you normally do…
But if you really want to get creative, then focus on touching her in places that might surprise her.
For example, tickle her inner thighs with your tongue, or spend a lot of time teasing her around her breasts before you actually start having sex.
TRENDING: 3 Secret "Touch Tricks" That Get Hot Girls Soaking Wet, Naked & On Top of You In Bed!
You could even incorporate other materials, like a feather or some other soft material (like silk) to make things super hot.
Remember, blindfolding builds anticipation by surprising the person who's blindfolded. So what happens during the experience is truly up to you.
The Secret to Keeping Things Sexy…
Ultimately, just experiment in a way that makes you feel comfortable, and don't forget to observe her reactions — that's the most important part.
And it's not super difficult to tell when she's really into something you're doing.
Is she just lying there with a blank face? Then chances are she's not feeling it.
WARNING: These Shocking "Touch Tricks" Turn Hot Girls On & Make Them Want to Bang Your Brains Out (Don't Use These Unless You Want Sex Right Away!)…
But if she's wiggling…
Breathing harder…
Moaning…
Or arching her back…
Then she's probably really enjoying what you're doing. 😉
One of the best parts of using blindfolds during sex is that it can make her orgasms that much more powerful. And we all know that if you can give a woman a powerful orgasm, then chances are she'll be dying to sleep with you again.
So here's how to do that: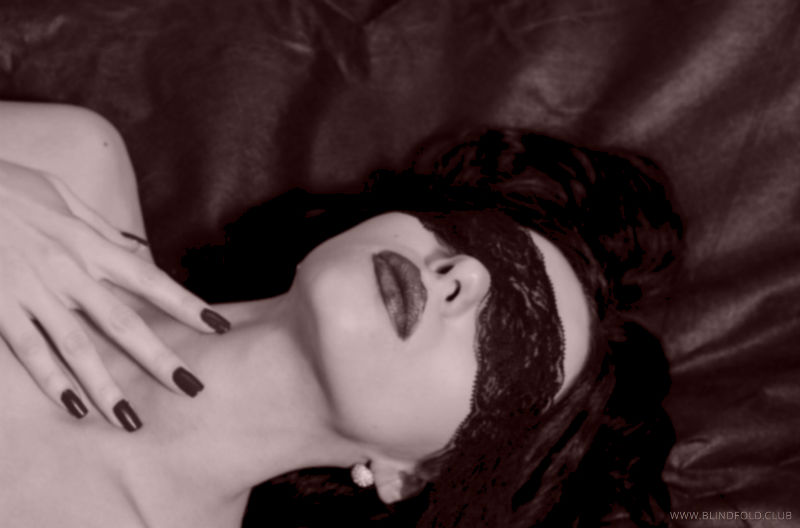 He Covered My Eyes & Tied Me to The Bed…
"Time to try a little something new," he said, climbing on top of me…
My pulse quickened & I felt shivers go down my spine… did he buy some special lube?
Or maybe he got a vibrator… (I did mention to him once that I was a fan of the Hitachi)…
But oh. My. god. What he did was SO much better than that.
When he entered me, I felt him do this "pulsing" move every few seconds… the pressure sent wave after wave of pleasure throughout my entire body… which built into an EXPLOSIVE orgasm after only like 5 minutes (lol).
Obviously, I couldn't see what he was doing with the blindfold on… so afterward, I had to know:
"That orgasm was AMAZING… where'd you learn how to do that thing?"
Without saying one word, he reached for his laptop and opened it up… I honestly thought he was about to show me some crazy porno… but nope. He showed me this:
Discover The Sex Move for MAXIMUM Pleasure & Crazy Powerful Orgasms…
UNCENSORED: 7 Roleplay Rules for Hotter, Steamier Sex Tonight
Click Here Now to Discover the Magical "Hard-On Meal" That Gives You Rock-Hard Erections & Gets Her Addicted to You In Bed…
Have you ever wished that you were somebody else?
Is Halloween secretly your favorite holiday?
Do you have a desire to act like somebody else in certain scenarios…
Like during sex?
3 SEXY PORNSTARS REVEAL: "D**k Size Doesn't Matter During Sex… But THIS Does!"
Roleplay is an awesome and easy way to make sex, well, sexy, every time.
It adds an element of excitement and mystery to the bedroom–which is a surefire way to keep a woman coming back to you for more.
Plus, it's one of the easiest ways to spice up your sex life if things have seemed "boring" or "stale" lately.
And that's because roleplay engages your imagination and creativity, allowing you to safely act out fantasies as another person or character.
It's a fun way to experiment and explore new territory with your partner.
The only problem is, if you're new to roleplay, it can seem a little intimidating (or let's face it, awkward).
How do you get into character without laughing?
How do you make sure she's enjoying it?
Do you need costumes or props?
There are a lot of questions surrounding roleplay, so using our best resources–including advice from our experts and scientifically proven tips–we compiled these 7 simple "roleplay rules" to have the hottest, steamiest roleplay sex ever. 😉
1) Get On the Same Page
There's nothing worse than not being on the same page in the bedroom.
Trying out a new move or trick can go badly if your partner either isn't into it or simply doesn't catch on to what you're doing.
Talking about role play before diving into it can help you establish ground rules and figure out what type of roleplay action you want to try out.
You can determine if there will be a dominant partner taking control of the situation or if you'd rather just play it by ear and see where the moment takes you.
SPECIAL: Do You Know About This "Secret Elixir" That Makes Girls Chase You?
Getting on the same page will make everything less awkward between the sheets and can really add to the anticipation beforehand.
And of course, it doesn't have to be some weird conversation either!
You can even ask her about it while you're in bed together. Something like, "Hey, the other night I had this dream that [talk about what you'd like to try]… what do you think?"
And then just go from there. 😉
2) Go "Shopping" Together
If you're looking to incorporate outfits or props, make the experience more fun (and exciting) and go shopping together!
This can be anything from costumes to sexy clothing like fishnets to handcuffs, glasses, or wigs.
TRENDING: If A Younger Woman Does This With Her Body It Means She Wants You Bad (Most Older Guys Totally Miss This!)
You can both point out outfits or props you'd like to try out, which can help lead to new roleplay ideas.
It's OK if you keep it simple at first–roleplay should be about having fun, so make sure you're both OK with the clothing or accessories you pick out.
And of course, props and costumes aren't absolutely necessary to have amazing roleplay. But if you do use them, it's better if you choose what you're going to use together.
3) Make THIS Kind Of Plan
Planning out your roleplay session might seem like the opposite of sexy, but until you get into the swing of things, it's the best way to make sure you're both ready and prepared for the big event.
You can make this sexier by texting new ideas or thoughts to one another to really get your imagination running wild.
INSIDER SECRETS: This Subtle 3-Touch Sequence Gets Her to Rip Your Clothes & Ride You Like a Drunk Girl on a Mechanical Bull…
This will keep the sexual anticipation high, while allowing you to safely communicate with one another on the game plan.
The key is to make sure that you both have a night picked out where you agree you're going to experiment with roleplay.
Otherwise, if you think you're gearing up for a hot night of kinky roleplay but the woman you're with has no idea… it could lead to disappointment.
(And prevent her from wanting to try it again.)
4) If You're Playing the Role of a Professor Or Superhero…
This isn't mandatory, but if you're playing the role of a nurse, professor, or even a superhero, you may want to learn more about your character prior to roleplaying.
This will make the entire experience more authentic and keep it easier for both of you to stay in character.
It's also helpful to be prepared so that if you engage in dirty talk, you always have something hot to say.
TRENDING: 3 Shocking Rough Sex Moves She'll BEG You for Again & Again…
Like for example, if you're a professor, you could say:
"Your biology homework was due two days ago… and now I have to give you detention."
Super hot!
(You can also try out these 3 Rough Sex Moves that most women secretly CRAVE… but won't ask for.)
5) What's On (Or Off) The Table?
You've figured out your perfect scenario, you've got the plan, and you've got the outfit.
But it's quite possible that you still have a fantasy in your head that your partner doesn't fully know.
For instance, maybe your fantasy of having sex with the babysitter involves rough sex or a position you've never tried before.
BRAND-NEW: 7 Hot-As-Hell Sexts That Get Her to Come Over & Strip Down Naked For You…
You don't have to get into every detail of your fantasy, but find out what's on the table and what's off the table.
Oral sex? Anal sex? Bondage? Choking? Slapping?
If there's something you want to try, then bring it up with her!
This will help you re-adjust your fantasy while making sure your partner is also having a good time.
6) Be Verbal With Your Boundaries
Roleplay can get pretty intense, which is great, so long as both parties are having fun.
Having your partner tell you to "stop" can seem like part of a scene when roleplaying, so coming up with a safeword is important.
You can use any word or phrase you want, but make sure it isn't hard to remember or something you would usually say.
Examples of common safewords include "Beetlejuice," "Foliage," "Justin Bieber," and even "Mango."
At this point, you're nearly ready for a night of steamy, hot-as-hell roleplay…
And that's when it's time for the final step: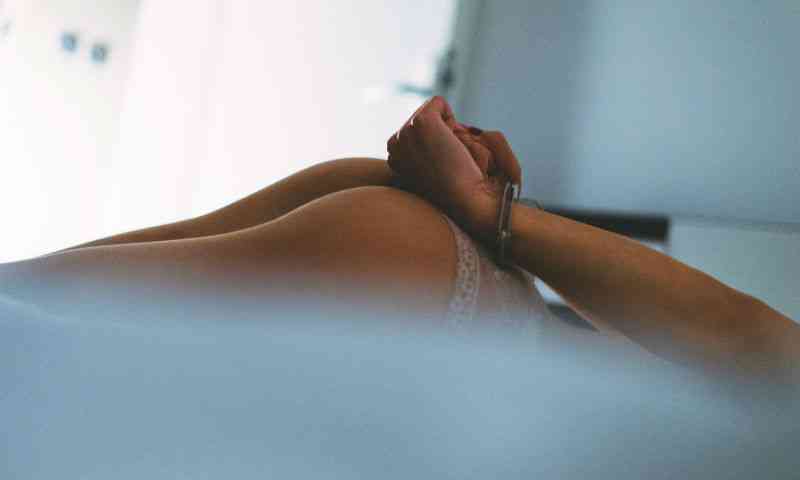 7) The Secret to Having Hot & Steamy Roleplay That She'll BEG You for More Of…
Roleplaying is a great way to spice up your sex life, or experiment with something new in bed…
And especially if you're acting out something *naughty* (like she's a schoolgirl who forgot to do her homework… or a careless, naughty maid)…
You're going to want to get a little bit rough with her.
Don't worry–most women secretly find it hot as hell. 😉
And that's because when you dominate her like this, it gives her permission to "let go" and get wild with you in bed.
(Translation: She's going to be more vocal… talk dirtier to you… and she'll be way more likely to do crazy X-rated things that she otherwise would NEVER try.)
Of course, when you get rough with her, you don't want to really hurt her… so it's best to start with these 3 simple moves, which most women secretly crave:
3 Shocking Rough Sex Moves That Unleash Her Naughty Wild Side (& Make Her BEG You For More)…
[Note: This post was updated by Gotham Club on December 7, 2019.]