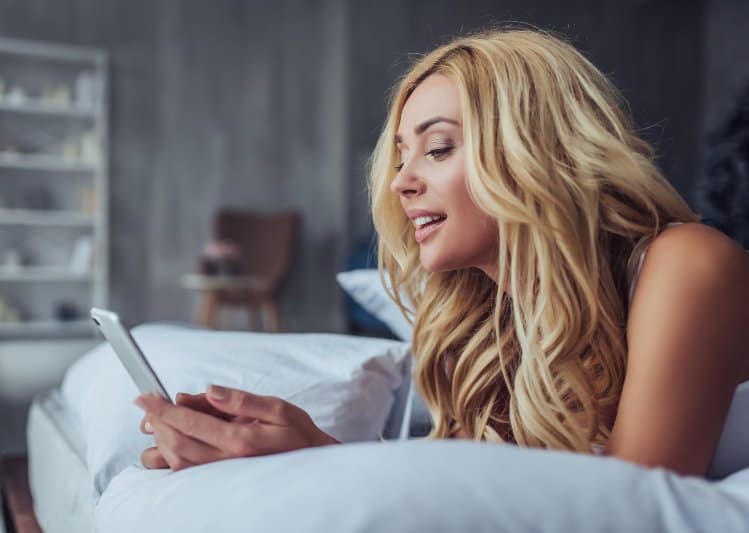 These Sexting Examples Can Turn Hot Girls On & Get Them Over to Your Place…
Click here to Discover 3 Shocking Under-The-Radar Touches That Turn Hot Girls On & Get Them to Kiss YOU First…
"Sexting" or the act of sending sexually suggestive texts or private messages is a common practice among single people in the United States.
About one in every five single people have sent a "sext" with the practice being more common among younger folks and more common with men than with women.
People sext for a variety of reasons including foreplay, establishing a connection with a new sexual partner, exchanging information about sexual desires and identity, and a desire to engage in a risky behavior.
TRENDING: If A Hot Girl Does This With Her Body It Means She Wants You Bad (Most Older Guys Totally Miss This!)
While the portrayal of sexting in research and popular culture is mostly limited to unwanted d*ck pictures and something which occurs among sexually active youth, there are lots of reasons for you to engage in sexting.
For people interested in a power exchange relationship, sexting may be an effective way to establish and maintain power dynamics.
Why Do Women Get So Turned On By This Style Of Sexting?
A power exchange relationship is a relationship where one partner gives over power in specific area(s) of their lives and the other partner accepts the responsibilities of making decisions and directing actions in the delineated areas of the relationship.
Many people enjoy power exchange relationships either as a submissive, a dominant, or a switch (or any permutation of these relationships including Daddy Dom/little girl, Owner/pet, Master/slave).
Regardless of your roll in a power exchange relationship, sexting can aid you in establishing and maintaining a feeling of power or powerlessness.
Texting is a wonderful way to engage in power exchange!
It has the advantages of being private, immediate, and very revealing.
You can use texting to reinforce a D/s dynamic when you are long distance or when you live together.
It provides a different form of communication which can be more comfortable for some people to talk about their sexual and power dynamic needs.
We are not talking sending d*ck pics here!
Trust me when I tell you, d*ck pics are 100 percent supply and zero percent demand from women. If a woman wants a dick pic, she will ask you directly. If you have not been explicitly asked, we don't need to see it.
So, how do you turn your phone into a tool for hot-as-hell power play and foreplay?
I'll show you: