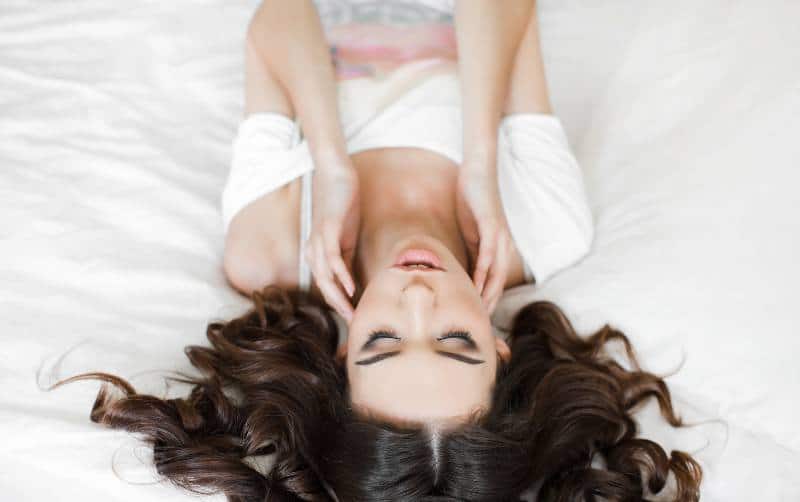 Discover How To Make Her Orgasm Hard, According To Science…
Click here to Discover 3 Shocking Under-The-Radar Touches That Turn Hot Girls On & Get Them to Kiss YOU First…
Sexual arousal in women is directly related to their mental stimulation, as detailed by Naomi Wolf in her 2012 book:
Vagina: A Cultural History — an exploration of the brain-vagina connection.
Women need to be relaxed and have their brains activated to be receptive and responsive to your moves.
According to Wolf, women have a brain-vagina loop, meaning there is a direct connection between a woman's mental state and her level of arousal.
While the exact science of this loop isn't completely understood, it is clear that relaxed women are more likely to want a romp between the sheets.
NEW: 27 "Sex Signals" That Reveal When She Wants You (Most Men Can't Spot These!)…
You can influence that mental state to make it more likely that the night will end with the two of you getting it on.
Only 64% of women report having an orgasm the last time they had sex, what's more, 38% of women who don't achieve orgasm rate their sexual experience poorly.
A woman who doesn't orgasm is, therefore, less likely to come back for more.
Also, A study from Finland found that women who were overwhelmed with the pressures of life, such as work and busy schedules, were less likely to desire sex.
Research shows that the first step to getting a woman wet and ready is to increase their desire or want for sexual activity.
If you're going to get laid, you're going to need to put in some work beforehand so that your date shows up already on the path to sexual arousal.
The road to sexual arousal for women isn't linear, but here are some practical tips that will get you well on your way to a rousing sex session.
1) Get her thinking about you.
Wolf mentions that women can become aroused just by thinking about their sexual partners.
Sending flirty text messages throughout the day can increase the likelihood that your date will be ready to go before she finishes dinner.
Research indicates that sexual fantasizing has a direct correlation to desire.
These text messages serve a dual purpose.
First, they help ensure that she is thinking about you in a sexual context. Second, they get her brain, focusing on sexual stimuli.
THE LATEST: This Simple Card Game Makes Any Woman Fall Deeply in Love With You (Click Here to Get It For FREE)!
You want her fantasizing about you before the date to increase your chances of getting her naked.
I'm not telling you to send a picture of your erect member. Instead, use words to stimulate her.
Experts say that women respond best to fantasizing about touching and physical and emotional responses than about the visual sexual fantasies that men enjoy.
So let her know how excited you are to taste her lips, or how soft her skin felt the other night when you brushed her arm.
My Hubby is an expert at this. He often sends flirty messages during the workday that ensure I'm going to jump him at my first opportunity.
Of course, since we're in an open marriage, he had my help coaching him on how to get his dates riled up.
His daytime flirtations always work and have his dates, and me, ready for some action.
[adning id="11082″]
2) Set the stage.
There its evidence that 10.1289/ehp.93101s2101">environmental factors such as stress contribute to a lack of sexual desire.
The environment includes sounds and smells, too, so make sure your space and you smell irresistible.
It's up to you to help your date relax and send her on the road to desire.
If you're heading back to your place, make sure your living space is neat, that the lighting is relaxing, and get some sexy music playing.
TRENDING: 3 Secret "Touch Tricks" That Get Hot Girls Soaking Wet, Naked & On Top of You In Bed!
Hotel rooms can feel sterile and unwelcoming.
Check-in early and set the room up in advance.
Use LED candles to shed flickering light across the room.
Set up a playlist that includes sensual music.
Have a bottle of wine ready for when you and your date arrive.
(Additionally, use your touch to make her feel relaxed once she arrives. Click here to see how… )
My open marriage allows me to explore with new partners, but they have to be something special to lure me away from home.
My first date with my current friend with benefits was spectacular.
He focused on setting the stage well on our first night together, and I rewarded him with several hours of intense sexual activity.
I was able to achieve repeated intense orgasms due to the relaxed, sensual environment.
[adning id="10065″]
3) Get her talking.
Don't wait until you're in a bedroom to start stimulating your date.
Show that you want to know her as a person, not just a sexual object by asking questions and letting her talk.
Women report that they are much more likely to get naked if they feel that someone is interested in, and accepting of, every part of them.
INSIDER SECRETS: 7 Hot-As-Hell Sexts That Get Her to Come Over & Strip Down Naked For You…
Ask about her career and her hobbies.
I love it when a man asks what my dream job is.
It allows me to discuss the things I'm passionate about, and what brings me joy.
The key to successfully conversing is to listen to what she says and ask followup questions.
Demonstrate interest and get her to do most of the talking.
You will demonstrate that you are genuine and will help dismantle any resistance she may have.
[adning id="11084″]
4) Help her relax.
Don't rush things.
Instead, encourage your date to relax in your candle-lit room with sensual music and a glass of wine while you massage her feet.
Progress slowly to a full body massage, but be careful to avoid genital contact at this point.
WARNING: These Shocking "Touch Tricks" Turn Hot Girls On & Make Them Want to Bang Your Brains Out (Don't Use These Unless You Want Sex Right Away!)…
Research from the Kinsey Institute shows that women crave sensual touching that includes more than just their breasts and genital area.
Make sure that you pay attention to her responses and do more of what makes her wiggle and moan in pleasure.
[adning id="11086″]
That's Not All…
Following these steps will ensure that your date is well on her way to sexual arousal and that you are the lucky recipient.
This type of approach will also have great orgasmic benefits for your partner.
According to research, having an orgasm is only possible when women give up control during sex and succumb to the sensations.
Her orgasm is much more likely if you take a slow approach.
You will come across as trustworthy, and she will be more receptive.
TRENDING: 3 Shocking Rough Sex Moves She'll BEG You for Again & Again…
In her book, Naomi Wolf demonstrates that women who experience the rush of hormones before and after an orgasm crave that same euphoria again.
If you take the time to get her primed and ready for action beforehand, your chances of helping your date orgasm improve, she's going to be coming back to you again and again for more sensual bliss.
5) Use Touch As Often As You Can.
There have been several lovers I've been with (this includes my current husband) who I just wish I could inhale.
I wanted these men inside me all day, every day… and up until recently, I didn't fully understand the ONE big reason why:
Your touch is the fastest "gateway" to sex… and when you use it properly, you can drive women absolutely WILD… and get them dripping wet… way before you ever step foot in the bedroom.
Of course, there is a little technique involved… which is why I'd like to turn things over to Gotham Club's Physical Arousal Expert… Magic Leone:
"Hey it's Magic… and if you want to touch a woman in a way that makes her horny for you…
to the point that she practically drags you to the bedroom for sex… there are two key steps:
1) Make sure you're in a place where sex can happen… (so basically your place or hers… or somewhere very dark and discreet) and:
2) Touch her like this <<< (Click here to check out a short, free video tutorial that shows you the exact touch techniques to use to make sex happen FAST)
I've found these particular touch techniques work GREAT to make a woman you're with feel relaxed… open…
… and also aroused… to the point that sex "just happens" a lot of the time.
So if you're hanging out in your living room for example, she might suggest "watching a movie" in bed…
Or she'll start getting REALLY touchy with you (resting her legs against yours, grabbing your arm, leaning in closer to you etc.)…
Or if you're out somewhere, she may even feel you up under the table if she's feeling bold enough… (this has actually happened to students of mine on several occasions)...
And while I'm not saying these techniques are going to give her CRAZY orgasms on the spot… I have personally found that when you use them before sex…
… it often builds up into a downright EXPLOSIVE release for her.
Don't say I didn't warn you! 😉
Click here right now and discover how to touch a woman in a way that will get her dripping wet, and excited to bang you whenever you want.