What Arouses Women to the Point That They'd Do ANYTHING to Get You In Bed? Discover The Proven Techniques From an Expert Below…
Click Here to Discover 5 All-Natural Foods That Get You Hard-As-Steel FAST (Even If You Haven't Had an Erection in Years)…
Hey it's David, one of Gotham Club's experts.
So in this video today, we're going to talk about things you can do that are surefire turn ons for girls.
I'll show you three techniques you can use to make a girl horny, and leave her ready for you to take her back to your place.
Because even though most of us are under quarantine right now… once we get out of it, stuff is going to get crazy.
BRAND-NEW: This "Raging Bull Secret" That Helps You Last Longer In Bed Is Almost Sold Out (Click Here to Get It!)
So these tips will help you handle all the hot girls with pent-up energy once we can all go back out again.
So watch the video above a couple times and practice the techniques I show you about what arouses women, and women won't be able to keep their hands off you.
So with that, let's get started.
[adning id="10065″]
Catch The Full Video Transcript Below…
The first part of getting a woman horny is to think sexy.
Think about all of the things you want to do to her.
Think it, and it comes out. Keep it in your mind and she cannot help but feel it.
Another very important technique is eye contact when you're talking to her.
Look at her in the eyes. You should know the color of her eyes very well.
Look at her right in her eyes while you're speaking.
Go slow, and keep your eyes focused on hers.
If you want to move your eyes, if you need to, move your eyes down to her lips and then back up to her eyes.
Eye contact is important, but don't be afraid to look at her body. Just don't stare at it.
[adning id="11082″]
2) Use Your Touch the "Right" Way
You also want to make sure to touch a woman in a few very specific spots in order to turn her on.
For example, touch a woman on her knee.
Another great spot is the small of her back, or even the top of her shoulder.
Touch is very important and is an early way to bond fast.
TRENDING: If A Younger Woman Does This With Her Body It Means She Wants You Bad (Most Older Guys Totally Miss This!)
And as you are building this sexual tension, you are unconsciously signaling to her that you want to sleep with her.
And as a result, she begins to register her level of interest in you.
If she is interested she will obviously stay.
If she is not interested, she will often make up an excuse and excuse herself from the situation.
(Discover how to turn her on fast with this proven technique… even if she doesn't seem that into you at all right now.)
3) Avoid THIS Kind Of Staring…
Another proven technique of mine is to avoid staring.
Maintain solid eye contact, yes, but what I'm gonna recommend is do not stare at her best parts. Do not stare at them.
The most powerful thing you can do with a woman that has either fake t*ts or fabulous breasts is to not look at them.
This works similar to how compliments don't work with particularly attractive women, because they are too used to hearing that stuff.
If you are engaging in conversation with a woman like that and aren't really looking at them, complimenting them, or you're not even being sexual…
… she will begin to wonder if you find her attractive.
A lot of times I've had women drag me home with them to prove just that.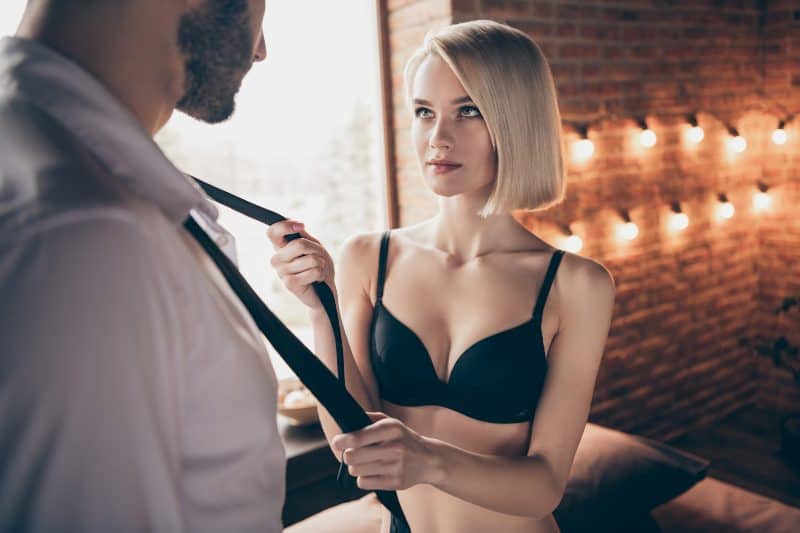 Play This Easy "Game" With Her & She'll Fall HARD For You (Safe For Quarantine!)…
Now, I know you can't exactly go out and interact with women right now…
… so instead, let me show you a really easy way to escalate with hot girls, make them interested in you, and potentially even get a woman to fall in love with you… even if you've never met in real life:
Play a game with her using this free deck of cards, also known as the "Deck Of Destiny."
This game was reverse-engineered by psychologists at Stony Brook University to make normal guys and girls fall in love… and quite shockingly… IT WORKED!
The deck itself is simple… there are questions on each card you ask each other, and the questions allow you to get to know each other on a very deep level…
And yes you can absolutely play it over text, FaceTime or Zoom…
… and the great thing is, when you play it often enough, this deck can help you:
Get a hot girl to fall HARD for you in very little time…
Get a rotation of 3-4 women to sleep with whenever you want…
Have sex with a hot girl on the first date (or first night you meet her)…
So while it might not get her to strip down on-camera for you (right away anyway, hah)… use this now, and reap the "benefits" later in the bedroom:
Click Here Right Now To Get Your Very Own Deck (For FREE)
P.S. When this whole isolating thing is over I suggest keeping your deck on your coffee table in the living room… or somewhere in plain sight.
Getting a girl to play with you after a first date can EASILY end in sex.