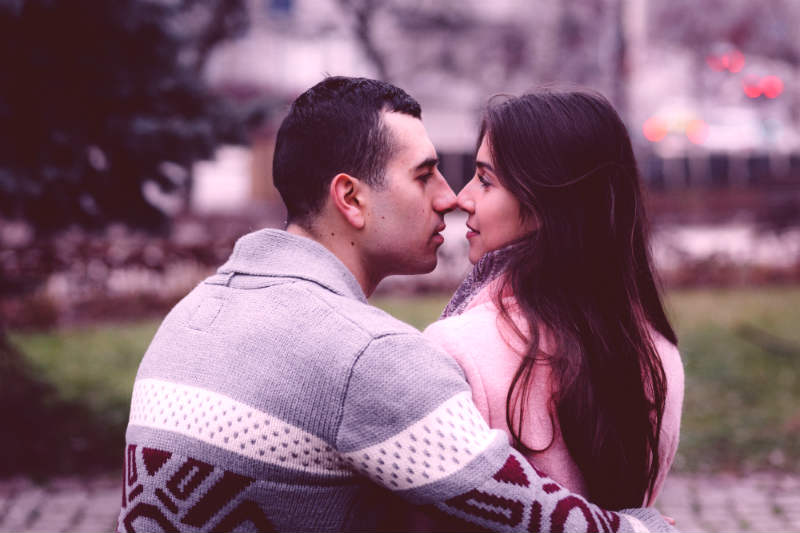 Do You Kiss on the First Date or Wait It Out? This Dating Expert Has a Somewhat Surprising Answer…
Click here to Discover 3 Shocking Under-The-Radar Touches That Turn Hot Girls On & Get Them to Kiss YOU First…
To kiss or not to kiss on the first date? That is the question.
If the date's going well, then you've probably been thinking about it.
You may want to wrap your arm around the small of her back…
Lean in…
And passionately make the first move that she's probably been thinking about all night.
TRENDING: If She Does This With Her Body It Means She Wants You to Kiss Her (Most Men Totally Miss This!)
But the truth is, a lot of guys end up chickening out when the time is right.
So what do you do? Do you kiss her… or don't you?
That's what I'm going to talk about today.
The First Date: To Kiss Or Not To Kiss?
At some point during the date, excuses may start to arise in your head as to whether or not she wants to be kissed.
You can hear this voice in your head saying, "What if she's not ready, or what if I get rejected?"
There are tons of resources online that try to sell you on the idea of "how to tell if she's ready to be kissed"… and in fact, I used to believe in this mentality myself.
Before I got good with women, I thought there was a "right moment" when she would finally be ready for me to kiss her.
Last week, I was out in NYC with a student of mine, and during one of my demonstration's, my student goes:
"She was ready to kiss you! But how can you tell that she's ready to be kissed, and how can you be sure?"
Which got me thinking…
THE LATEST: This Simple Card Game Makes Any Woman Fall Deeply in Love With You (Click Here to Get It For FREE)!
First, I thought, this student of mine was pretty new at the game. So why was he so sure that she wanted to be kissed?
And secondly, I started to answer his question about how to tell if she's ready… and that's when it dawned on me.
Nine times out of 10, what I do right before I kiss a girl is WAY different from what most of the men outside our community will teach.
What do I do?
I go in for the kiss before I see any "signs" that she's ready. And I'm about to tell you why.
Are There Any "Signs" She Wants You to Kiss Her?
I won't deny that there are definitely times when a woman will give you the tell-tale signs that she's ready to be kissed.
I'm not going to go over them here, but when you do see those signs, you can either go in for the kiss or use her desire to be kissed to build up sexual tension.
However, there are also times when she's not going to give you any "signs."
I hate the idea of waiting until she's "ready" for me to kiss her.
Why?
Well, as men, we need to take charge!
SHY OR INTROVERTED? Click Here to See Why Talking Less & Doing More of THIS Gets Her In Bed With You…
So if that's the case, why are we waiting around until she heats up enough, and we get enough signs that her glossy red lips are ready for yours?
Truth be told, and thanks to this question my student had asked me, I realized that I don't follow the standard set of rules about when to kiss a girl on a first date.
And it's been serving me well since day one.
How Dating Experts Recognize the "Right Moment" to Make A Move…
When I'm on a date, or we're back at my place, I always find myself deciding that it's time to kiss her way before I get the "I wanna kiss you" eyes from her.
I almost never wait around until she's "ready" to be kissed–instead, I kiss her and escalate when I'm ready.
Most of the decision to move forward in a sexual manner is my choice. And she often follows suit.
I decide when I'm ready to kiss her, and not the other way around.
On top of that, when I do this, if she's into me, then there's a huge risk she takes if she denies my kiss.
SPECIAL: 27 Surefire Signs She's H*rny And DTF Right Now…
Why?
Because as a woman who's interested in me, then I might reject her if she rejects my advances. And that's not what she wants.
What a place of power to come from!
It Doesn't End There…
So when I decide that I want to kiss her and turn things sexual, my mind automatically goes into a sexual state. I remember that all mental states are energy, and all energy is 100% transferable.
So, if I start to get sexual in my energy, then she will pick up on this and follow suit without a doubt (providing that she is attracted to you, of course).
This whole "waiting until she's good and ready" to be kissed is B.S. behavior!
We are the men, and as men, we decide when and if to take action. 🙂
So next time you're out with a girl, decide whether or not she's attracted to you and then create that sexual energy.
But how do you know when she's attracted to you?
I'll show you:
I've Gotta Be Honest With You…
Most women? They aren't going to make it obvious when they want to kiss you.
Sure, some older women tend to be more "forward" or sexually liberated (ya know, "cougars")… but even then, it's often difficult to tell when the "perfect moment" is to make the first move.
That's why, unless the date is going HORRIBLY wrong (like she's staring at her phone the whole time, or spends half an hour in the freakin' bathroom)… I always go in for a kiss on the first date.
Because worst case scenario? She's not into it. Big frickin' deal–she probably wasn't worth my time anyway.
And best case scenario? She comes back to my place, and I end up getting lucky (hell yeah).
Of course, I don't go in for the kiss at the very beginning of the date. And I don't do it while she's in the middle of telling me some story over dinner.
99% of the time, I go in for that kiss toward the end of the date… when I see her giving me some positive body language signals.
I don't mean "positive body language" like she's sticking her hand down my pants (lol)… it's not that obvious. These are things she'll do with her hands… her legs… her hair… that basically tell you, "I'm having a good time, and I'm feeling really attracted to you right now."
Click here to see a list that shows you what these positive body language signals are.