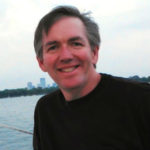 After 16 years of marriage, Trent walked out of the rubbly dust cloud of his divorce and into the clear, blue skies of…freedom!
It took a few months, but he realized that his experience as a married guy had prepared him perfectly for the life of a single man in his 40s.
He knows how to talk to women – married, single and divorced – in exactly the way they want (after all, the mind is the biggest erotic zone on the female body).
Now that he's figured out what he's doing in the dating scene, Trent has no interest in ever being married again. Marriage = one and done = unlimited fun!
Before joining the team at Gotham Club, where he can write about his true passions, Trent wrote for USAToday.com, San Francisco Chronicle, Minnesota Daily, AZCentral and LiveStrong.com.
And he still tells women what's up with his regular column in Girlfriends magazine.
Education:
B.A. in English Writing, University of Minnesota
J.D., Hamline University School of Law
M.F.A. Candidate (Creative Writing) University of Texas – El Paso
Recent Gotham Club Articles by Trent Jones:
Connect on Social Media: