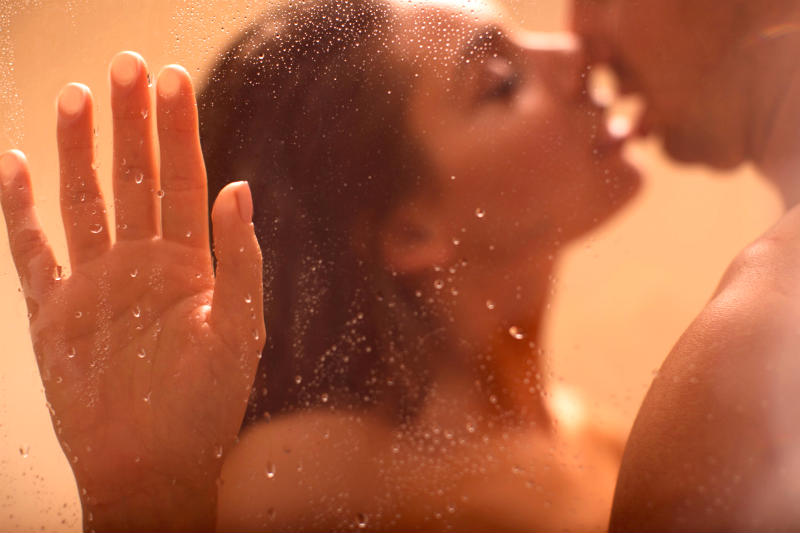 Shower Sex Is a Fantasy For Many Women–Here's How to Make It Your Hot & Steamy Reality…
Click Here to Discover 3 Rough Sex Moves She'll BEG You For Again & Again…
February might be known to many as the month of love, thanks to the fame (and pressure) of Valentine's Day, but there's another frisky holiday we think you'll enjoy: National Shower with a Friend Day.
That's right, there's actually a holiday solely dedicated to getting naked and hopping in the shower with someone.
NEW: 27 "Sex Signals" That Reveal When She Wants You (Most Men Can't Spot These!)…
National Shower with a Friend Day is a real holiday that takes place every year on February 5th.
This amazing holiday is the perfect excuse to sneak in a shower with a friend you've been crushing on or to finally take the plunge and explore shower sex with someone special.
To help you prepare for this epic event, we'll explain the history of this monumental holiday, dive into some of the best benefits of showering with a friend, and walk you through how to have amazing shower sex.
What's The History Of National Shower with a Friend Day?
Winter can be a pretty long, lonely season. Most of us just want to find someone to help keep us warm.
That's why this funny and frisky holiday gives everyone – single or committed – something to look forward to:
A warm shower with a friend.
This holiday was established four years ago in 2014, by New Wave Enviro, who encouraged consumers to take showers with their new shower water filtration system.
THE LATEST: This Simple Card Game Makes Any Woman Fall Deeply in Love With You (Click Here to Get It For FREE)!
This resulted in enstating this quirky holiday encouraging everyone to take more showers together.
Even though the holiday might sound hilarious (and it is), you'll definitely want to use it to your advantage.
8 Surprising Benefits of Showering Together
Showering might seem like it works better as a solo act, but there are a surprising number of reasons to give it a try with someone else.
If you need a reason to shower with someone (or maybe just some foolproof facts to convince them it's a good idea), we've got plenty.
Here are 8 awesome benefits to showering with someone else.
1) Conserves Water
This is a great way to convince an eco-conscious woman to enjoy a shower with you. Saving water is one of the simplest ways to help the environment.
It's also a good way to make sure you both get to take a hot shower, before the hot water runs out.
2) Enhances Intimacy
There's nothing more intimate that showering with someone you love (or lust). The act itself is exciting and thrilling, and can be great for your sex life.
When you shower together, it's impossible to hide from your partner, making your bond even stronger. Starting the day naked in the shower together can be an intense bonding strategy that will have you thinking about each other all day long.
3) It Will Make Her More Comfortable Being Naked Around You
When you're in the shower together, you can't hide. Showering with your partner helps you become more relaxed in your own skin and will make you less self-conscious when you're naked around your partner.
BRAND-NEW: 3 Secret "Touch Tricks" That Get Her Soaking Wet, Naked & On Top of You In Bed (Even If You're "Just Friends" Right Now)!
To help her get relaxed, offer her plenty of compliments, not just with your mouth, but also with your hands…
4) Makes Cleaning Faster (& Easier)
Four hands are better than two, right? Showering together can make cleaning faster and easier for both of you.
It also allows your partner to clean hard to reach places (and any other places you might want help sudsing up…)
5) Fantastic Foreplay
Touching one another in the shower is extremely sensual and makes for incredible foreplay. If you don't actually end up having sex in the shower, she'll likely be ready to go by the time your shower ends.
To really make this benefit work in your favor, be sure to sud her up and give her a deep massage to help relax her, while encouraging touching her.
6) Makes Date Night Easy
Don't worry about spending hundreds on the perfect date night – it's all waiting for you in your bathroom. This is especially helpful for busy couples who want to spend the night just relaxing together, but also want to make sure their date nights are special.
Light some candles and turn on sensual music for the perfect date night in the most intimate of settings.
7) Leads To Great Conversations
When you're naked in front of someone and can't hide, it's easier to be honest about pretty much anything. Even if you feel nervous, you'll generally find yourself revealing more about yourself than you would if you were clothed.
Shower conversations can be pretty great, including revealing crazy secrets or unleashing sexual fantasies.
8) Can Spice Up Your Sex Life
Are you stuck in a dull routine when it comes to sex? Showering together is an easy way to get out of your rut without doing anything too extreme.
Shower sex is also a pretty convenient and low stakes way to spice up your sex life, one that she'll likely love exploring with you.
Is Shower Sex Really Worth The Effort?
With so many concerns and anxieties over shower sex, you might be wondering why so many people get turned on just by the very idea of it.
The reasons all vary, but here are just a few benefits many people feel shower sex offers:
The naughty pleasure of getting "dirty" in a place where you normally get clean…
The hot experience of watching your partner get all soapy and wet while completely naked…
A new place to experiment and try something new with your significant other…
An awesome and sexy way to minimize messiness if you two like to have sex while she's on her period…
A fantastic way to get it on and still feel fresh and clean afterward…
Ready to learn the secrets of great shower sex? Here are some expert tips and tricks to finally get it right.
Preparing For Shower Sex: 5 Crucial Keys
This isn't the sexiest part about shower sex, but understanding the basics is really important for the ultimate hot and steamy session.
Why?
First of all, shower sex can be dangerous. Things are slipping and sliding, and if water or soap gets in your eyes, there's potential for disaster.
RELATED: 7 Raunchy-As-Hell Sexts That Get Her to Come Over & Strip Down Naked For You…
On top of that, sex in the shower is something most people don't do on a regular basis.
And like anything you don't do on a regular basis, practice is essential.
So with that in mind, here are 5 important keys to keep in mind before you have sex in the shower:
1) Don't Use A Condom (Seriously)
Many people don't realize that condoms and water aren't a great combination.
In fact, condoms can degrade when they are immersed in water, making that method of birth control pretty pointless.
Not only are condoms prone to falling apart in the shower — they also tend to slip off, which can be pretty dangerous.
So instead of a condom, try using a different means of birth control or STI prevention ahead of time.
2) Lube Is A Must
A lot of guys think shower sex is perfect because it's an easy way to ensure their girl is wet the entire time.
However, the problem is that water will actually dry out a woman's natural vaginal lubrication, which can make shower sex not so fun for her.
This is easily solved if you come prepared with a bottle of silicone-based lube to keep her ready to go. Silicone-based lube lasts for a fairly long time when exposed to water, whereas water-based lube will quickly wash away.
We reached out to sex expert Simone Paget, who also added:
Silicone-based lubricants are not only water resistant – they also last longer because they don't absorb into the skin."
Using lube will also often make reaching orgasm more likely for her. Especially if you touch her like this.
3) Keep It Safe
Shower sex can be slippery and scary if you don't prep your shower first.
You'll want to look for solid handles or bars to hold on to (if needed), such as the shower curtain rod or built-in handles or rods.
Test them out to make sure they're sturdy before leaning on them with the weight of two people.
INSIDER SECRETS: 3 Shocking Under-The-Radar Touches That Get Hot Girls to BEG You For Sex…
You should also make sure you at least have a bath mat laid down on the tub floor to prevent slipping and sliding.
If you don't have sturdy grips in your shower, Simone recommends investing in some safe shower grips like these.
Not only are they affordable (and easy to install!), they'll also provide the extra grip and traction you need in the shower.
4) Buy Water-Resistant Sex Toys
If the two of you love incorporating toys in the bedroom, then make your shower sessions even steamier by adding in some sex toys.
Of course, you'll need to make sure that the toys are waterproof and safe.
And definitely use lube if you're going to be adding toys into the mix.
In the case of shower sex, it's also best to keep it small and simple — a clitoral vibrator would work well, for example.
No need to bust out a giant dildo, or something that could slip and fall. This will prevent tripping and the potential for more mess.
5) Prep The Room
Sex in the shower won't be much fun if either of you is freezing — so make sure your heat is turned up.
Why?
Even if the water is nice and steamy, chances are you won't both be under it at the same time.
Ensuring the air is also warm will keep both of you in the moment, rather than wishing you could wrap yourself in a towel.
TRENDING: 3 Shocking Rough Sex Moves She'll BEG You for Again & Again…
Aside from warming things up, you also want to set the tone.
Whether you're hoping to surprise her with shower sex or your session is planned, you'll want to make your bathroom look more sensual than usual.
Set the mood by lighting a few candles and dimming the lights (don't turn them off — you'll need to see inside of the shower).
You could also play some hot music to really set a sexy tone.
How To Get Down to Business & Rock Her World Without Getting Hurt
Once you have all the prep work covered, it's time to get started.
Working up to sex in the shower can be a little different than sex in a bed, so there are a few more things you should keep in mind.
Before you start having sex in the shower, it's important to work in some foreplay.
So what kind of foreplay should you use before shower sex?
Is it the same as before regular sex?
Here's what you need to know (and check this out if you want to know more about the kinky foreplay she secretly craves):
1) Get Soapy to Make Her Feel Sexy
You might not think that washing the woman you're with sounds particularly sexy…
But getting her all lathered up and soapy while you explore her body with your hands can be the ultimate turn-on.
Washing her hair can also help her relax and unwind.
Most guys find it more arousing to have their partner step inside the shower first, so let her in and you can follow. That way, you get to watch her get all hot and wet, and then you can join her. 🙂
2) Have A Plan
You're likely going to have to play around with different moves to find one that best suits your individual heights.
We'll get into some of the best sex positions for the shower in a bit, but first, think about the logistics. Things like:
Where you should be standing…
What to hold on to…
TRENDING: If A Hot Girl Does This With Her Body It Means She Wants You Bad (Most Older Guys Totally Miss This!)
And a safe place to put your feet and hands.
Here's a pro tip: Don't ever rest either of your feet on the edge of the bathtub.
It's a recipe for disaster and is completely unsafe.
Similarly, if a rod or handle does not feel sturdy, don't grab on to it.
Which brings me to my next point…
3) Tub Sex Is Also OK
When you're trying to figure out the best positions for shower sex, you might find that your bodies simply aren't lining up correctly.
That's OK! Maybe the height difference between you two is too large, or the angles just aren't feeling right.
Perhaps you almost slipped, and you're concerned about safety.
So if you're into it, try sex in the shower by actually sitting down in the tub.
It might not feel like the shower sex you dreamed of, but it will still give you both a new and exciting sexual experience together.
4) Don't Focus on the Finish Line
Sex in the shower can be a very situational experience.
One time it might be great, and the next, it might feel forced or awkward.
Maybe the water starts to get too cold, or you lose momentum halfway through, for example. (Worried about losing momentum? Try this cool little trick.)
At the end of the day, there's nothing wrong with using shower sex as an awesome opportunity for foreplay… and then you can continue your romp outside of the shower.
If you feel like you aren't going to finish, get her all hot and bothered, and then take matters into the bedroom where you can fully enjoy the experience.
5) Don't Give Up
While it's OK if you don't finish, you also shouldn't give up after 30 seconds.
If you aren't finding an angle that works well for both of you, just change up the plan.
THE LATEST: If She Does This With Her Body It Means She REALLY Wants to Sleep With You!
For example, oral sex in the shower can be extremely hot and intense — and a lot of fun, too.
Try investing in a cushy bathmat so you can both get the most out of this experience.
From there, it's time to think about which positions are going to work best for you once you do start having sex.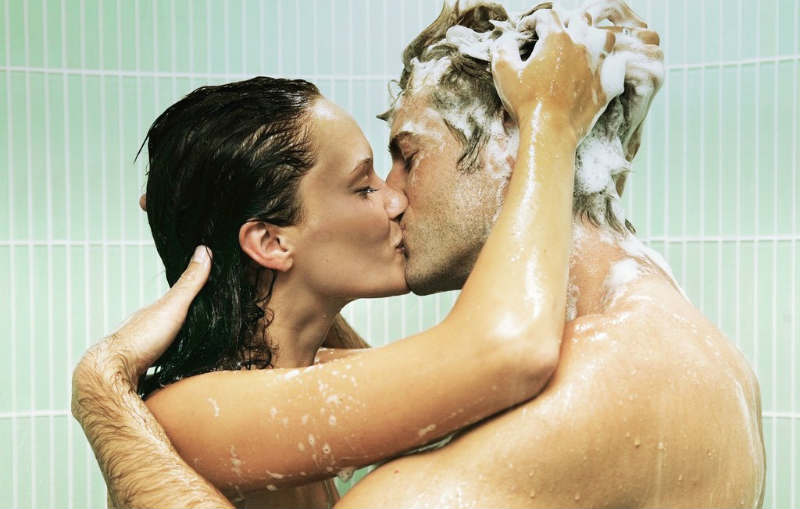 8 Positions Every Guy Should Try in the Shower
Just like in the bedroom, some positions are going to work better than others in the shower.
Some couples might love standing shower sex…
While others might get more out of sitting down…
And others might enjoy different types of sex or masturbation to spice up their shower sex session.
No matter what position you love doing most in bed, there are a few key moves in the shower that will work for almost anyone.
Check out these 8 incredible sex positions that are perfect for shower sex — even if you've never tried it before.
1) Doggie Style
This classic shower sex position is pretty basic, but there's something even more primal and hot about doing it in the shower.
For the best success, have her bend over and hold onto a handle, the shower knobs, or even get down on all fours if that's more comfortable, and enter her from behind.
You might need to adjust the water a bit so it isn't splashing in either of your faces while you're going at it.
Be sure to also hold on to her hips — not just because it's sexy, but also to help steady her and prevent her from slipping and falling on the ground.
2) Standing Room Only
If you find you two are the perfect height for having sex standing up, then you're going to love this position.
Have her hold onto a rail, shower door, or grip while standing and enter her from behind.
This is not only hot because you're pressed against her, but she's also pressed between you and the wall (or shower door), making the session even more intense.
BRAND-NEW: 3 Secret "Touch Tricks" That Get Her Soaking Wet, Naked & On Top of You In Bed (Even If You're "Just Friends" Right Now)!
If you have plenty of lube and she's willing, this could even be a great position for trying out anal.
If the height differences are too great, you can still enjoy this move while using your hand to turn her on and rubbing up against her from behind for maximum pleasure.
3) Wet and Wild
If you have a detachable or hand-held shower head (and if you want to wow her, you should invest in one), let your woman hold it and press it up against her clitoris while you enter her from behind.
It can be a little more difficult — even with lube — for some women to reach orgasm in the shower.
But if you have a showerhead offering her pleasant vibrations while you pump away from behind, this move is sure to have her begging for shower sex more often.
4) The Leg Grabber
This position allows the two of you to face each other, though it might require a little bit of practice.
You want her to be pushed up against the wall or shower door, holding onto a rail or grip (as needed) for balance.
Lift one of her legs and bend it while you enter from the front.
Depending on your height, you might need to bend down first to gain entry…
But once you figure out the logistics, this move is a great way to enjoy the closeness of each other's bodies without worrying too much about slipping.
5) Sit and Squat
To successfully pull off this move, you'll need to be sitting on the edge of the tub.with your feet in the tub and hands holding onto a firm grip).
Put your feet in the tub and use your hands to hold on with a firm grip.with your feet in the tub and hands holding onto a firm grip).
Have her lower herself on top of you, with her back facing your body, so she's more or less squatting down on you.
TRENDING: This "Magic Foreplay Technique" Gives Hot Girls Multiple Squirting Orgasm (Click Here for Step-By-Step Instructions)…
She'll also need at least one thing to hold onto, and a shower mat under her feet doesn't hurt either.
From there, she can enjoy controlling the movements to help both of you reach orgasm together.
Pro tip: Use your free hand to manually stimulate her as she wiggles and squats.
6) Up Close and Personal
This position allows you to better explore each other's bodies without worrying about the complicated logistics of figuring out who should stand where.
Try facing her or stand with her back to your front, so you can reach around and get her off using only your fingers.
Using your hands to try to bring each other to the brink is a great alternative for couples who can't find a comfortable or safe way to engage in shower sex — and it's still totally hot.
Not only will both of you revel in figuring out new ways to turn each other on…
You'll also learn a lot more about what kinds of subtle movements can really trigger an intense reaction. Like this move, for example — it drives most women wild.
You can also indulge in pleasuring one another while in the shower and easily move to round two into the bedroom (or somewhere else in the house). 😉
7) Down and Dirty
If it's just not working while standing up, or if the two of you need a little break, try this:
Sit down on the floor of the tub and have her straddle your lap, facing you, for an intense girl-on-top move.
This position gives her full control over the pace, while also offering you an incredible view.
It's also a lot safer to do this since you're able to sit down. Plus, the water offers a change of environment, which always makes sex hotter.
8) On Your Knees
We mentioned earlier that oral sex can be really hot in the shower, and here's why.
Oral sex is often seen as a "dirtier" form of sex since your mouth is in direct contact with a sexual organ.
Although many couples love having oral sex, some people aren't as into it or are hesitant about going down on their partners.
Many times, this issue ties back to their thoughts of genitals as "dirty."
CONTROVERSIAL VIDEO: This "T-Shirt Secret" Can Get You Laid Tonight…
That's what makes oral sex in the shower so perfect.
She'll be able to clean you off or go down on you, knowing that you're completely clean — and for some women, this is a huge turn-on.
You could even take turns going down on each other.
When it's her turn for pleasure, have her bend over in front of you, so you can go at it from behind.
And when it's your turn, have her kneel in front of you (make sure the water isn't in her eyes) and allow both her tongue and the water pressure to work their magic.
3 Easy Ways to Spice Up Shower Sex
Do you already feel comfortable having shower sex?
Or maybe you're just looking for a slightly wilder time in the water?
Either way, there are a definitely a few tricks you can try to step up your shower sex game.
So with that in mind, here are three of the easiest ways for you to spice up shower sex and keep things hot & steamy:
1) Edible Shower Gels
The only thing hotter than eyeing your partner's slick, wet, naked body in the shower is touching and licking every inch of her.
Edible shower gels are an incredible way to help the woman you're with get clean while also indulging in a little extra fun.
Try rubbing the gel around some of your favorite spots on your woman:
Her hips…
Her butt…
Thighs…
Neck…
You get the idea.
From there, tease her as you lick it off of her. She'll love it — trust me.
Edible gels can also be great for oral sex, although you should always check the produce label to make sure it's OK to use on sensitive areas.
2) Add Toys to the Mix
Like I mentioned earlier, incorporating sex toys is a great way to really add a new layer of kink into shower sex.
While you likely can't use toys you already have (unless they're waterproof), you can find a variety of usable toys online or in local sex stores.
TRENDING: If A Hot Hipster Girl Does This With Her Body It Means She Wants You Bad (Most Older Guys Totally Miss This!)
Remember, you should also only use toys that pair well with silicone-based lube (silicone-based lube can damage some sex toys).
Of course, toys that work well in the shower aren't limited to traditional vibrators (though these can still be fun!).
Try looking for vibrating sponges and other naughty toys online.
3) Roleplay
Just like when you're in bed, sex in the shower can be an incredible place to incorporate roleplay.
Perhaps you sneak in on her mid-shower and set the scene from there.
This is a safe, yet super hot way to add some extra spark to the shower sex without increasing the risk of slipping or falling.
You could also try indulging one of her dirty, dark fantasies — like this one, for example.
What If You Just Aren't "Feeling It"?
Shower sex can be awesome — there's no denying that.
But at the end of the day, you're only human. Maybe you had mindblowing shower sex one night, but on another night it's just not happening.
The water might get too cold or hit one of you at the wrong angle, for example.
TRENDING: 3 Secret "Touch Tricks" That Get Hot Girls Soaking Wet, Naked & On Top of You In Bed!
Or maybe the candles you lit don't provide enough lighting, and you find yourself fumbling around too much to find a workable position.
So if shower sex isn't working out, should you give up?
Yes and no.
If it's not working in the shower, then it's perfectly fine to step out and take things back to the bedroom — but before you give up, there's one more special move you should try.
Here's how it works:
Once Things Are Getting Hot & Steamy–How to Take Her Over the Edge…
Have you heard of a woman's "Deep Spot"?
It's this small, pea-sized area that's kiiiinda close to the G-Spot… but it's actually a lot more sensitive… and it's really easy to hit during shower sex too.
Just have her lean against the wall while you bend her over… and then penetrate her like this…
And usually, after a few minutes (like 5-7 for me lol)… it builds up into an explosive, very X-rated release.
Check out this video to see how to do it–you're gonna love this (and so will she):
How To Penetrate Her "Deep Spot" & Give Her a Mindblowing Orgasm…
The Bizarre Kinky "Sex" Act That She Might Secretly Want To Try…
This may shock you a little… but the kinky sex act in question has nothing to do with touching your partner.
Quite the opposite, in fact:
It's all about touching yourself, while your partner is present.
A poll of over 2,000 people conducted by TENGA (a company that sells sex toys) found that–of the people currently in relationships–a whopping 51% had masturbated with their partner present.
Masturbation is commonly thought of as something you do alone, in private… and in fact, many guys assume their partners prefer if they don't masturbate with them around.
SPECIAL: This "Raging Bull Secret" That Boosts Your Bloodflow & Gives You Hard-As-Steel Erections Is Almost Sold Out (Click Here to Get It)…
So what exactly is going on, and what does it mean?
Well, before I jump into that, let's dive a little deeper into the numbers.
Of those who had masturbated in front of their partner, 68% said that having their partner watch was "extremely pleasurable."
On top of that, more than 10% of all people polled said they had touched themselves while talking on the phone or over Skype. So it seems like there are quite a few of us sharing in the solo action.
But why would a woman agree to masturbate in front of you–or watch you masturbate in front of her–in the first place?
3 Sexy Reasons She Might Be Down to Masturbate in Front Of You…
There are a lot of reasons why the woman you're with might want to masturbate in front of you–and not all of them are obvious.
Other than fulfilling the classic "voyeur" fetish, which may be more of a niche desire than what this study is getting at, there are three key reasons why she might be interested in going solo while you're watching.
Here's what they are:
1) She Can Show You What She Likes
The most obvious reason she might want to–or at least be willing to experiment with–touching herself in front of you is so she can show you exactly what she likes.
Because the truth is, even if you're a "sex god," and can give her the kind of pleasure most men only dream about… chances are you aren't going to push her buttons as well as she can push her own.
So this could give her the opportunity to show you how she likes to start building up her physical pleasure… exactly how she wants you to escalate (like, for example, if she prefers more clitoral or vaginal manual stimulation)… and what she likes when she's on the brink of orgasm.
For a lot of women, speaking up about how they like to be touched can be a point of stress. And that causes a lot of women to be quiet about what they want. As a result, she may not be getting the pleasure she needs to enjoy sex with you.
This gives her an easy, low-pressure, and super-hot solution.
2) It Puts Her In Control (AKA Makes Her Feel Hot)
On top of being able to show you what she likes, the experience of having you watch her without being able to touch her will also give her a new sense of control.
And for a lot of women, this is extremely sexy.
Why?
Well, it's all about the dominant-submissive relationship.
Most women are used to the man taking "control" in the bedroom… which can be really hot! But at times, it can also feel boring.
By allowing her to give herself this kind of pleasure in front of you, without you being able to experience it beyond the visual, she is effectively "teasing" you.
Watching you watch her may, depending on your reaction, cause her to feel her more desired… and that will turn her on more than just about anything else. Trust me.
3) It's an Easy Way to Spice Things Up
Finally, a woman might be down to touch herself in front of you simply because she hasn't tried it before.
Most people hear the word "sex," and instantly think penetration–this presents a new way to experience sex that's both completely novel and also stimulating.
3 SEXY PORNSTARS REVEAL: This Doesn't Matter During Sex… But THIS Does!"
"How is it stimulating if I'm just supposed to sit there and watch her?" You may be wondering…
But think about this:
Watching her touch herself in front of you is basically like a free porno–and is probably a lot higher-quality than most of the stuff you'll find online anyway.
Not to mention, it's also a great way to ease into even more hardcore kinks, like roleplay, and other BDSM techniques.
Speaking of which…
If you like the idea of this kind of kinky sex… and you'd like to ease into it with the next woman you take home… then you've gotta check this out ;-):
Her #1 Kinky Fantasy (68% of Women Secretly CRAVE This)…
A recent study discovered that over half of women have a dirty little secret….
It's a naughty sexual fantasy, about what we wish you'd do to us in bed (but are often too afraid to ask for). 😉
That's right… most women are laying in bed at night… feeling sexually unsatisfied… touching themselves to the thought of a man who REALLY knows how to unleash our "wild side"…
Because the truth is, most guys are too "gentle" with us during sex… which is fine sometimes (like on Valentine's Day)… however…
A lotta the time, we crave something else entirely… and the guys who can satisfy our secret sexual craving?
They're the guys we keep coming back to for more… and more…. And *OMG* I'm getting kinda turned on just thinking about it right now lol…
Anyway, I might have to run off to the bathroom for some *alone time* if I keep writing about it ;-)… but this video will show you how to indulge our naughtiest sexual fantasy:
Discover Her #1 Kinky Fantasy & How to Unleash It With the Woman You Want…
[Note: This post was updated by Gotham Club on January 22, 2021.]