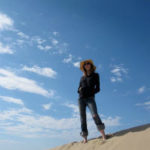 Sadie Calahan works as a freelance writer, though sometimes it seems she has a part-time job: coaching her friends through dating troubles!
She dated her way across two continents before finding the right guy in a coffee shop in Portland. After that, she dashed to the altar–something she swore she'd never do. Though her freedom-loving younger self might have been skeptical, she's now happily married. She's grateful for the brief encounters–the fun dates, the awkward dates–that gave her a clear, big-picture view of the joys and challenges of dating.
In college, Sadie focused on women's studies. (Yes, an entire academic department exists to interpret the lives of women!) She also has a graduate degree in writing. Sadie is constantly working to understand the slippery human heart. She's tired of watching great guys go solo. At Gotham Club, she puts her writing skills to work to help you succeed.
Recent Articles By Sadie Calahan: