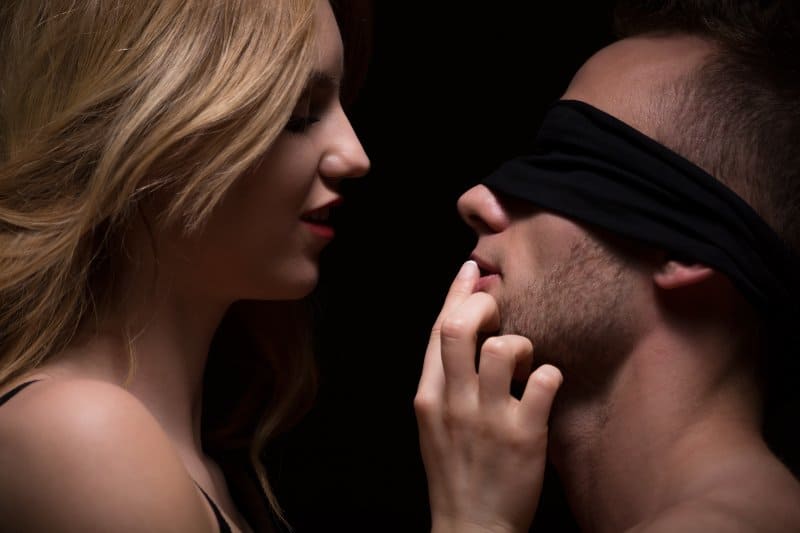 Is She Kinky? If She Does Any Of These 3 Things With Her Body The Answer Is Probably "Yes"…
Click Here Now to Discover the Secret Signs She's Kinky And Wants to Go Home With You…
Unmarried people generally have one question in common:
What happens to a couple's sex life after staying together for years?
Maybe you're already coupled up and feel like things are lagging in the bedroom. Or maybe you're just beginning a new relationship and want to keep the flame burning.
Of course, not everyone has the same sex drive. Some couples are happy to just chill on the couch through the decades!
TRENDING: 3 Shocking Rough Sex Moves She'll BEG You for Again & Again…
But some women have a higher sex drive than others—and if you've got one of these ladies, you're one lucky dude!
How do you know if a woman has a high sex drive in the first place, though?
Luckily, new research has discovered 3 key signs a woman is "highly sexual"–so if you're into kinky sex, rough sex, or you just like having a lot of sex generally…
Here's how to find a woman who's your equal in the bedroom:

If She Does These 3 Things It Means She's SUPER Kinky (Scientifically Proven)…
To learn more about "highly sexual women," or ladies with a high sex drive, researchers interviewed 44 women, between the ages of 20 and 82 (yes, that's a big range!).
According to their results, women with high sex drives are more adventurous with sex, more likely to talk about sex openly with their partner, and more likely have good body image (in other words, they know they're hot!).
These are all really fun characteristics in a partner. How can you support a highly sexual woman and keep things spicy for years to come?
CONTROVERSIAL VIDEO: Can You Spot the Hidden Signs a Woman Is Interested In You? (Most Men Totally Miss These!)
According to research, a lot of women feel a decrease in desire over the course of a relationship.
But women with high sex drives are less likely to experience this!
So when you first meet a woman, you can "test" her to see if she's got good self-esteem, is open to talking about sex (after a few conversations first, of course!), and seems adventurous in her life generally.
And once you've determined she may be kinky, there are a few things you can do to confirm your suspicions… and bring out any woman's "naughtier" side:
4 Ways to Unleash Any Woman's Naughtier Side–Even If She Seems Shy Or "Vanilla"
1) Let her know she's hot.
Okay, she already knows it and doesn't need you to tell her—but everyone likes a compliment!
The science doesn't lie:
If you make a point of letting a woman know you appreciate how hot she is, she's a lot more likely to want to keep getting down and dirty.
WARNING: These Shocking "Touch Tricks" Turn Hot Girls On & Make Them Want to Bang Your Brains Out (Don't Use These Unless You Want Sex Right Away!)…
2) Don't be afraid to initiate sex.
Remember the early days when you were both constantly tearing each other's clothes off?
Those don't last forever—but there's something you can do to keep the mood alive.
Maybe you've stopped asking for sex when you want it. Has it become a routine, or a habit, that no longer feels special?
You can keep your lady interested by initiating sex whenever the mood strikes you. Even if it's in the middle of washing the dinner dishes.
Because sometimes, there's nothing hotter than the kitchen floor—even somewhere past your twentieth anniversary!

3) Talk dirty.
Well, sort of. Talk dirty in the bedroom, sure. But also talk openly about sex.
Talk about what you like and what you don't like. Share your most embarrassing fantasies—there's nothing to spice up sexual doldrums like a pair of bunny ears!
Just kidding, unless that's your thing.
But really, sharing your thoughts, questions, and ideas about sex is a great way to remind your lady of all the fun you can still be having in the bedroom.
Maybe she never knew that you have a thing for doing it in a tent, for example. There you go—best date weekend ever, planned. You can thank me later. 😉
Put aside any shyness that may be holding you back, and get talking. Pillow talk has never been so fun.
THE LATEST: These 3 Tinder Secrets Will get You Laid Tonight…
4) Talk sweet.
This one's simple:
Share your feelings with your gal.
The best part of sex, according to many couples, is the emotional connection that comes with it, and the fun you can have with a person who really knows and cares about you.
If you share your feelings with your lady, your whole relationship will benefit.
Not to mention, she'll be reminded why she fell for you, and she'll be extra excited to keep things steamy in the bedroom.
But what if you aren't in a relationship?
If you spot a woman who's potentially kinky… what's the fastest way to get her in bed in the first place?
I'll show you: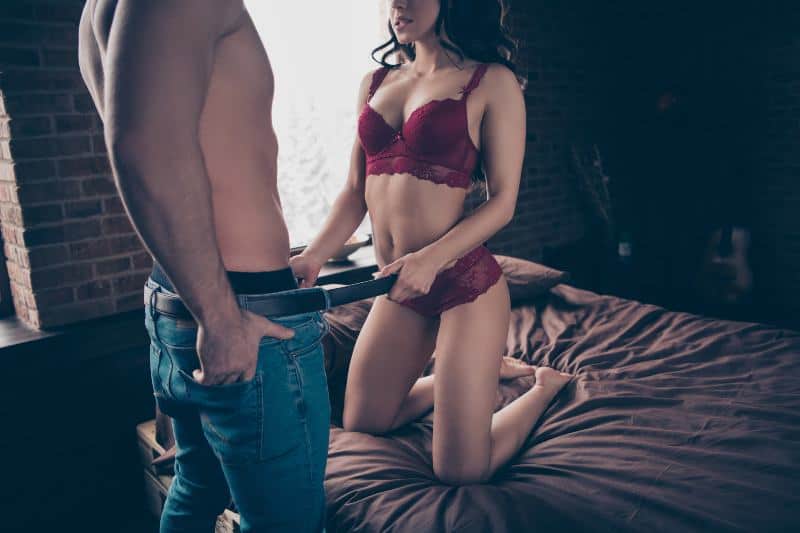 Once You Spot A Freak… Here's How To Unleash Her Freakiness!
Just because a woman is highly sexual… doesn't mean she's going to hop into bed with you.
(Trust me I have a lot of friends who are "secret freaks"… and even though they LOVE having the kind of wild and kinky sex that would make most grown men blush… they still only choose to share their "freakiness" with certain guys.)
So how do you get a woman to show you her naughtier side?
Think about it… in order for a man to get a woman in bed, he has to stimulate her mentally and physically.
She has to be in the right mindset for sex, and be physically turned on at the same time.
The good news is, women who are highly sexual almost always have sex on the mind… so if you know how to spot these women, you've already won half the battle.
Now you just have to get her PHYSICALLY turned on.
And numerous studies show the fastest way to make a woman h*rny, and "in the mood" for sex… is to touch her.
As a matter of fact there are 3 "over the clothes" spots you can touch that are scientifically proven to make women wetter *down there*…
They work great if you're in a crowded place, or it's the middle of the day, or even if you just met…
…(If she's a freak that'll probably just turn her on even more lol!!)…
And I have to admit, I LOVE the way it feels when a man touches me here ;-):
Click here right now to see 3 panty-soaking touches that turn hot girls on & get them to pull you into the nearest bathroom for SEX!
[Note: This post was updated by Gotham Club on August 9, 2020.]