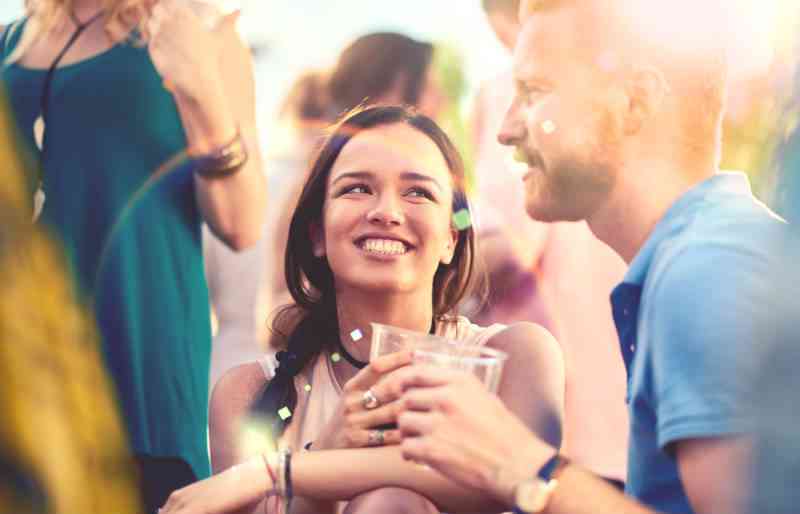 How To Start Talking to A Girl & Get Her Home With You on the First Night–Even If You're Shy Or Introverted…
Click Here to Discover Why Talking Less & Doing More Of THIS Gets Her to Sleep With You…
So you're sick of online dating.
Hey, you're not alone!
It's no secret that Tinder has basically turned into a superficial game… and other dating apps are often just as bad (if not worse).
In fact, a recent study found that 54% of online daters said that they don't find the sites and apps very useful.
But now that everybody is always on their smartphone 24/7, how do you go about meeting girls in real life?
If you're feeling confused or even frustrated, you're not alone.
Today, we're going to show you 5 scientifically proven ways to meet hot girls that are exactly your type in real life–no cold approach necessary.
It all starts with taking advantage of the resources you already have:
1) The Tried & True Way
According to research, the most common way people meet their next hookup or significant other is through friends.
This is pretty logical, right?
When you are alone, you will socialize mostly with your friends.
And you never know when that cute co-worker (or relative, or simply friend) of a friend might come along for a drink!
However, it's important to be prepared when this happens.
BRAND-NEW: 3 Secret "Touch Tricks" That Get Hot Girls Soaking Wet, Naked & On Top of You In Bed!
Remember that you already have an advantage because you are a trusted member of a group that a woman feels comfortable in.
Plus, the woman will be more receptive to you talking to her, and she will be more forgiving if you don't say exactly the "right" thing.
As a woman who has met hookups and boyfriends this way, let me tell you a secret…
First, it helps to be able to hold a conversation.
You should be able to talk about things other than work and sports.
Second, make sure to ask the woman some things too. Open-ended questions are usually best–these are questions that don't focus on "yes" or "no" answers.
Another key is that if you are looking for sex, don't make that clear right away.
Go for a friendly, rather than a flirtatious, approach.
Most women respond better to this and will probably still sleep with you. 🙂
2) Don't Underestimate the Value of Buying a Girl A Drink
Bars and other public places are a great place to meet a new woman.
After all, us girls go to bars for the same reasons–to meet men.
While this is not the ONLY reason women go to bars, it's a big one. Statistically, about 30% of couples meet in bars and restaurants.
The catch?
As a man, you have to be ready to break the ice.
This means you should also be ready to approach a woman while you're there. The truth is, most women still expect this, in spite of what some feminists say.
Buying her a drink is a good approach, but it's also predictable. You could take things up a notch by sending her a rose with the drink (if there are vendors nearby)–but you could also open her with something simpler, such as:
"Is that a Manhattan?" (Or whatever you think she may be drinking.)
If she is in a group, introduce yourself to the other women. Can you hear the "respectable" points going up? (Ka-ching, ka-ching!)
The Golden Rule:
Never use a pickup line! Ask her about work, hobbies, family, and let the conversation flow.
I know this might sound like a lot of work, but many women are looking for a hookup at bars.
So you have a good possibility of getting laid–even if it doesn't turn into a long-term thing.
3) Try THIS Endorphin-Boosting Activity…
Having hobbies and attending events and gatherings related to your hobbies can be a great way to meet new women.
If you're looking for a long-term girlfriend, this is definitely the way to go.
And that's because you'll likely have way more in common with the women you meet.
TRENDING: If A Younger Woman Does This With Her Body It Means She Wants You Bad (Most Older Guys Totally Miss This!)
Plus, meetups and social events take all the pressure off of you having to be charming and flirtatious.
And if you take up an endorphin-boosting hobby like jogging or running, both you and the women in your group will be in a better mood and more likely to "click."
It's a true double whammy:
You have fun yourself, and you have fun with women–often some pretty attractive ones too!
Even if you aren't into running, you could join a beer or wine club…
A book club…
An art club…
Whatever you like, there's probably a club for it somewhere near you.
4) Work It, Baby!
Do you know how much time the average man spends working throughout his lifetime?
90,000 hours!
That's a lot of time NOT spent pursuing women… but it doesn't have to be this way anymore.
In today's modern workplace, women are everywhere.
Co-workers also often go out for happy hours and social gatherings after work–this could be your chance to chat up that cute new girl in accounting!
Just make sure to approach her in a professional but friendly manner.
One new study found that most workplace relationships end in marriage–so if you've been waiting to ask out your cute co-worker, now is the time to stop waiting. 😉
That's the thing about meeting hot girls in person–a lot of it is about your timing.
Which brings me to the last (and most effective) way to hookup with more hot girls right away…
5) The ONE Way Real Life Is Kinda Like Tinder…
You know how girls can "swipe right" when they like you on Tinder?
Well real life is kinda like that too.
Some women are going to "swipe right" when they see you… and yeah, some will "swipe left."
On Tinder it's really obvious when this happens…
… a notification pops up on your phone about a new match… and when you login, you can start chatting with her.
But in person it's not so easy.
Because when a woman is interested in you in real life, she isn't going to just walk up to you and say, "I like you, wanna bang?" out of the blue.
In fact she's probably not even going to walk up to you and say "hi."
(Unfortunately, women just aren't used to approaching new guys, so they almost never do it… even if she likes you a LOT)
She's going to be way more subtle about it…
… and while most guys don't pick up on these subtle clues…
… if you CAN spot them, you'll be surprised to see just how many attractive women out there are secretly interested in sleeping with you:
Click Here to See the Subtle Clues a Hot Girl Wants to Sleep With You (That Most Men Totally Miss)…