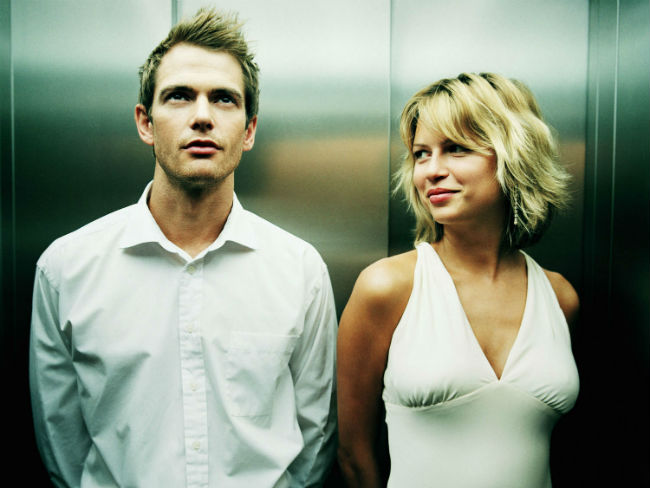 Body Language 101: Everything You Need to Know to Spot the Women Who Want You & Wordlessly Seduce Them Right Away…
Click Here to Discover the Secret Signs She Wants You BAD (That Most Men Totally Miss)…
Body language may be the most important way we communicate – at least when it comes to dating and sex.
The trouble is, most men aren't sure exactly how to read a woman's body language or how to project the right message using their own body language.
This cohesive guide will help you learn everything you've ever questioned about body language, making you the master of every woman you desire.
When it comes to communication, body language is king.
In fact, over half of what you communicate to other women is not in what you say…but what you do.
And likewise, most of what women communicate to you is through their actions.
But a recent study revealed that most men chronically underestimate how often women want sex — and a lot of this has to do with your ability to read body language.
Most women won't just come out and say, "I want you to take me home right now!"
But what they will do is effectively "say" it with their bodies. You just have to know what to look for.
And yes, this can certainly get confusing.
For example, research has shown that people may engage in more eye contact when lying than when telling the truth to counteract the stereotype that liars avoid eye contact–so reading body language is not always as simple as "looking for signs."
Don't be the guy who thinks, "She just wants to be friends…"
When in reality she wants so much more…
This week, I'm going to show you exactly what to look for so you know how to tell if a girl is flirting with you, and can tell once and for all if she wants to go home with you.
The "Lost in Translation" Phenomenon Stopping You From Solving a Woman's Mystery
The first step in recognizing the signs a woman wants you is to acknowledge what body language is: A language.
And just like any other language, it's not something you innately know — you have to learn it.
But learning to recognize a woman's body language isn't quite as easy as sitting down at your computer to bone up on your Spanish.
Body language is sexist, and you're at a disadvantage.
Why Is This So?
Studies have shown repeatedly that women are much better at interpreting nonverbal cues than men.
One particularly interesting study looked at a group of about 300 undergraduate men and women and asked them to identify pictures of women's body language as friendly, sad, rejecting, or sexually interested.
Before I share the results, take a minute to come to a conclusion on your own.
It's easy to assume that the men in this group would be more likely to misinterpret all of the cues as sexually interested…
But this wasn't the case at all.
TRENDING: If A Younger Woman Does This With Her Body It Means She Wants You Bad (Most Older Guys Totally Miss This!)
While it's true that men were more likely to misinterpret a friendly cue as a sexually interested one, men were also more likely to misinterpret a sexually interested cue as a friendly one!
Another interesting tidbit: The men in the study were also more likely to confuse sadness with rejection.
Your brain might be hardwired to want sex, but it's not hardwired to recognize when a woman does and doesn't want it.
This vast difference in ability to accurately interpret body language has been dubbed the "Lost in Translation" phenomenon, but you don't have to feel "lost" anymore.