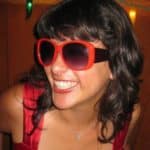 Diana Dee is a different kind of dating coach.
Since she was little, she's had a gift for knowing s**t about people before they do (even when she really, really doesn't want to know!)… and has parlayed this into an awesome profession:
Helping people with their love lives!
She's a third-generation healer and intuitive (yeah, let's just call it what it is–she's super psychic!).
Through her own multiple dating snafus, many late-night texts she regretted sending through the whole of her 20's and "it's complicated" relationships, she's been knee-deep in the trenches and is ecstatic to finally be on the other side sharing some hard-earned wisdom.
She's helped thousands of smart, successful men and women shed the past, get out of their own way and attract amazing relationships.
In her spare time, she enjoys not camping, consuming scary amounts of dark chocolate and dancing around her house to random Spotify mixes.
For more Diana Dee, check out her YouTube channel right here.
Recent Gotham Club Articles:
Follow Diana on Social Media: