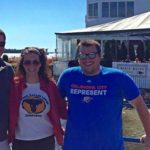 Clark Morgan is a writer for Gotham Club and a man who's been in enough relationships to know what works and what to stay away from. This understanding was developed over time, and it's helped him become an expert on body language, communication, and doing what it takes to keep the boat happily afloat. There was a time when he couldn't even approach a woman, but now he's got what it takes to pass along advice and strategies to those who feel lost in communicating and pursuing women.
Clark's other interests lay with technology. Technology is going to have an effect on everything in our future, and relationships are no exception. He looks forward to writing about the intersection of tech and romance (and how guys like you can use it to your advantage).
Whether you're just dipping your toes into the dating world and you're looking to learn the ropes, or you're a grizzled dating veteran trying to find a better way, Clark is here to help.
Recent Articles by Clark Morgan: