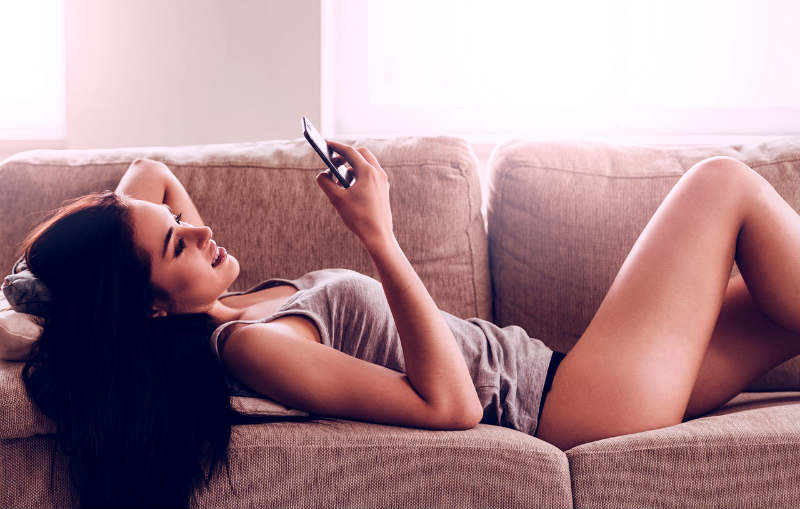 Discover the Best Way to Ask a Girl Out Online–Is It Really This Easy?
OK–you're online, and you've been chatting with a woman you like.
How do you get off the app (or site) and into a first date?
The truth is, it's not really that difficult… but in most cases, you're going to have to be the one who makes the first move.
I know, I know–sounds scary, right?
And it can be… because most guys don't plan ahead… kind of just "rush in" to asking a woman out online…
Then they get upset when she either "ghosts"… and doesn't message back… or agrees to go on a first date, and then quickly loses interest when she's out.
Fortunately, there's a really simple, easy-to-follow way to make the first move in a low-risk, "no rejection" way… that's gotten countless guys just like you laid really quickly…
It just takes a little bit of knowledge… and the ability to follow simple instructions, step-by-step.
(Side note: this works especially well if you're getting a little bit older… and you still want to date hot younger women).
So here's exactly how you can go from first messaging a hot girl… to slipping off her panties… and having dirty, sweaty sex with her all night long:
1) Lay Some Groundwork
In order to successfully set up a meeting, you'll need to seem like someone she'd want to hang out with.
What do I mean by that?
Think about the people you like to be with–they entertain you, make you laugh, do things you like to do… right?
Even if sex is the only thing you're after, you still have to seem more interesting than "the guy who's only looking for sex," since that's what every other guy a hot girl runs into is looking for too.
And in order to schedule a date and increase the chances of a "successful" date–whatever your definition of success may be–you need to come across as an interesting, even charming, person online.
Any number of articles are out there in which women complain that men on Tinder and a lot of dating sites simply ask if a hot girl wants to hook up and then get offended when the answer is "no."
Don't be that guy. That guy sucks.
There is a time and a place for being very direct with women… but generally a dating app or online isn't the place for that… until you've made a connection with her.
You can still be the guy who wants sex–even first date sex–but you have put in some effort.
Women are human beings, with human needs. And getting a woman to meet with (and ultimately sleep with) you requires you to address some of these needs.
2) Send the Right Message
Start by sending the first message.
On most apps or on most sites, you can send the first message–do it.
If it's a site or app like Bumble, the first message needs to come from the woman. Usually (in my experience anyway) women aren't terribly clever about their first messages.
The first message on Bumble is usually a simple "Hi" or "How are you?"
Basically, just enough to put the ball in your court.
And she wants the ball to be in your court for a reason:
She wants you to stand out from the hordes of other "'sup?" or "Netflix & chill?" guys in her inbox.
Therefore, your first message doesn't need to be super witty or anything like that…
But it does need to make you stand out from other guys on the app.
One of the easiest ways to send a good first message is to use her profile or profile pic to craft it.
Pay her a harmless compliment (think outfits or shoes, for example–things she can control. Not something out of her control like her body or something corny like her eyes.)
You can try to make her smile (humor is always good).
I'd suggest using what works for many of the guys who do the best on these apps… since it's proven, and can really "grease the wheels" for much faster hookups.
Then follow up with a question.
In fact, try and follow all of your responses up with a question.
Why?
It suggests several things:
You're interested in hearing what she has to say…
You pay attention to details…
And you know how to have a conversation–give and take, back and forth, etc. So a date isn't going to be like pulling teeth for her.
More importantly, for our purposes, it keeps the online conversation going so that you can build a rapport, or at least a little familiarity, with her.
3) Be General (But Not Too General)
In order to get to an IRL meeting, you need to eliminate reasons for her to say "no."
You already did a little bit of that with your profile–you matched with her, right?
So don't give her any chance to object to a meeting in real life when chatting with her.
Very few profiles (for real women, anyway) say "DTF! Please no chitchat. Message me now for sex!"
Most women either hint at some hopes, dreams, or expectations; or they say nothing at all. Which means you have to guess at what some of those things would be.
This is why it's always best to be general about your own interests and desires.
Is she looking for long-term and you're not? Say you're "open to it" but that you "need to find the right connection."
Does she say "no hookups!"? Don't ask for one!
Remember, even if a hookup is your goal, you're not going get one if you don't meet her first. (You can always block her number later.)
Be an open book without lying. In order for her to want to meet you–really want to meet you–she needs to see in you some of the things she hopes for. (If after chatting, you don't want to meet her, though, just back. Away. Slowly.)
So be general in your responses. Appear open to new experiences, and don't outright disagree with anything–unless it's a deal-breaker, in which case you need to pull the rip cord immediately and move on to the next girl.
4) Ask Her Out the "Right" Way
Once you've laid the groundwork and established an online connection, ask her to meet. (Once again assuming she doesn't ask you first; if she does, agree to go out!)
At this point, there's no reason for her to say "No" so you need to start thinking about venues.
First, always ask if there's a place she'd like to go. This is good for two reasons:
1) It shows that you're not a control freak and that you're open to suggestions…
2) And it gives her some security because she knows she can pick the place if she prefers to do so.
But chances are she'll tell you to pick–then you have to name a place. The whole "you pick, no you pick" thing is silly. If she tells you to pick after you ask her where, then you have to name a place.
So, be prepared to do so.
You should always have a few places to suggest. They should be public and vary from things like coffee to drinks to casual activity.
Never suggest dinner.
Why?
Your plans can always turn into dinner, but always suggest something casual and public–from which either of you can easily escape or escalate. A bar, a coffee shop, or a park. Whatever.
If you get to pick, it's a good idea to suggest a place where the staff know and like you, but where you're unlikely to run into a friend, an ex, or anyone else you know.
Good or preferential treatment at a bar is a good thing; sharing your attention with someone else is not.
Once you've got the "yes" and the place down, you're good to go. Bring your 'A' game and close the deal!
And here's how to do that:
5) Got a Date? Try THIS to Make Sex 45% More Likely…
The truth is, there's only ONE thing I do before every single date when I want to sleep with the woman that same night… and it has yet to fail me:
I review this proven data on what makes a woman horny on a first date.
This is information collected with the same "machine learning" algorithms and advanced A.I. software used by some of the world's largest corporations…
They analyzed hundreds of thousands of dating app conversations… "in-field" footage of dates… and yes, even text conversations…
All in the name of finding out, once and for all, what makes a woman SO horny that she suggests "going back to her place" at the end of a first date.
For example, did you know that using these 3 "innocent" letters in an online dating message makes a woman up to 28% more likely to respond?
And that doing THIS makes sex on the first date 45% more likely?
This is a goldmine of real-world data that makes it easy for you to sit back… relax… and enjoy a date, confident that sex is way more likely at the end of the night: