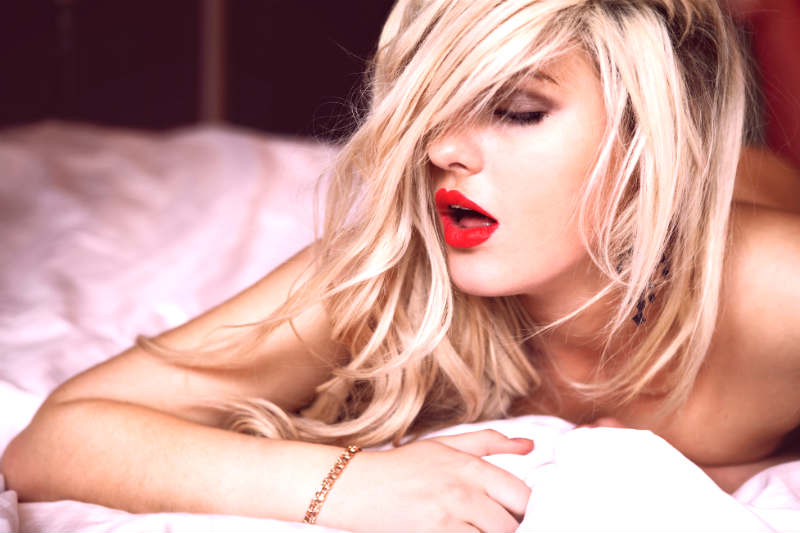 How to Pick a BDSM Safe Word, Test Your Limits and Take Her Over the Edge–Do You Like It "Rough"?
If you've ever thought about experimenting with rough sex or BDSM, it can be easy to get overwhelmed…
But the truth is that getting started with kink doesn't have to be complicated.
You don't need to the latest in leather or a high-end, suspension swing — the only things you really need are consent and some boundaries.
One of the easiest ways to start experimenting with BDSM is to try some spanking or "soft" BDSM.
So today, I'm going to show you exactly how to do that (and why women love it so damn much).
Pleasure Vs. Pain: How Do You Know When to Stop?
The most important thing to remember when you start playing around with kink is that it's based on pleasure.
It's not violence or punishment in the "real" sense that most people imagine.
Because with BDSM, the ultimate goal is to make both you and your partner feel good.
It might seem counterintuitive — "If the goal is to make me feel good, then why is pain involved?"
The pain is there to heighten your pleasure… not take away from it.
So when it doesn't feel good, then stop. That's it!
If you're just starting out, then you probably don't need a safe word just yet, but just make sure that both you and your partner have set your "boundaries."
The only time BDSM becomes "bad" or displeasing is when you or your partner cross the other's boundary.
Going beyond the stopping point is violence, and causing your partner harm is definitely not the point of kink.
What you're trying to do is create a more intense erotic experience.
And here's the first step to accomplishing that:
How to Define Your "Roles" in the BDSM Bedroom
Before you can get down and dirty, it's important to have a conversation with your partner about your "roles" in the bedroom:
What do you want to do? How is it similar/different from what your partner wants to do?…
What's your "limit"? What's hers?…
Do you want to spank, be spanked, or both?…
And if so, will this happen before, during, or after sex?…
When you're talking with your partner, you both must be clear about what want to do and what you don't want to do.
There are three basic roles in the BDSM bedroom: Dominant ("dom" or "top"), Submissive ("sub" or "bottom"), or Switch (you're happy with either).
Deciding at the outset that you want to be in one role doesn't mean that you can't change your mind and trade off later.
The key is to communicate, get her consent, and understand exactly what both of you are going to do.
Why?
Well, if both you and your partner want to be Subs without talking about it, then both of you are just going to lie there waiting for something to happen.
Not very sexy, right?
For my part, I've learned that I am much more of a control freak than I think I am. As open-minded as I imagine myself, I am regularly told that I'm a bad sub (I keep trying, though).
Fortunately, most of the women I've experimented with are Switches, so changing roles on the fly hasn't really been an issue.
Figure out what works for you, and be open to trying new things.
That Time I Spanked a Woman Into a Mindblowing Orgasm…
As I've written before, I happened onto my love of rough sex accidentally.
I was pretty "vanilla" and enjoyed it for years.
Despite having some low-key fantasies related to rough sex, I never asked any of my sexual partners or my wife about it.
To be honest, it wasn't until after my divorce, during sex with one of my first post-marriage partners, that I figured out how intense sex can be.
She was on top of me, and I could tell from her face and movements that she was close to finishing.
Then something strange happened:
She said, "Spank me."
Understandably, I was startled and questioned what she'd said.
No one had ever asked (ordered!) me to spank them before.
She responded, "Spank me! Right now!"
So I did. "Harder!" (An order she repeated several times).
On the verge of orgasm, she told me to pinch her nipple, and again, ordered me to squeeze harder, and harder — beyond a point where I felt comfortable, as I have pretty substantial grip strength — but I did it….
And she exploded (so did I.)
We kept at it all night long:
Spanking…
Pulling…
Tugging…
Biting…
Orgasm after mindblowing orgasm…
I was hooked.
As my experience illustrates, in rough sex, the Dom does not always have to be the deliverer.
In fact, the Dom will often tell the Sub what she should do to him — not the other way around.
It's all about communication, and testing your boundaries together.
The "Spanking And…" Conversation to Determine Just How Hard She Wants It
Flowing from that one experience, I now have the "spanking and…" conversation with most of the women I sleep with.
At the end of the day, it's just about impossible to tell whether or not a woman will like it "rough," so the only way you can figure it out is to ask her.
It doesn't have to be "weird" or clinical. It's as simple as asking her:
"Hey, do you like playing rough during sex? What about spanking? And if so, how rough do you want it?"
Most women aren't used to being asked questions like this before sex, so 99% of women will be enthusiastic about opening up to you about it. Seriously!
And if she says "No," that's perfectly fine. After all, vanilla sex is still sex, and it can be awesome.
Beyond that first conversation, if it's your first time sleeping with her, then check in during sex as well.
Questions like, "Is this OK? How about this?" Always work well.
And always be sure to start gentle — not only will you figure out the point where rough play is most pleasurable, but you also get extra stimulation from the buildup.
Plus, slowly increasing intensity will build your tolerance to "rough" sex over time, so you can eventually take it farther with the right partner.
The #1 Key to Keeping Both You and Your Partner Safe (And Sexually Satisfied)
Always, and I mean always, give your partner feedback when you're experimenting together.
For example, one woman likes me to slap her in the p***y (seriously).
The first time, I was way too gentle for her, even though she kept asking me to do it harder.
We talked about it afterward, and with some tweaks in the technique and live feedback, I was able to spank her to orgasm.
I was slapping her much, much harder than I ever would've imagined a sensitive area like that could take.
But she took it, and clearly, loved it.
As these examples show, your own inhibitions can often get in the way of both giving and receiving pleasure.
Speaking of pleasure…
How I Surprised a Sexy "Nurse" During a Private Inspection…
"Nurse Karen is here… and you look like you're ready for an inspection."
Karen, my on-again off-again hookup, wasn't actually a nurse… but she sure was good at pretending. 😉
Straddling me in bed, she unbuttoned my shirt and kissed down my stomach… "Mmmm, your reflexes seem to be fine… now let me check a little further south…"
She slipped her white nurse's uniform over her head and kissed further… further… "WOW, you're hard as a rock!!" She said… "Have you been doing something different?"
The truth is, I had been doing something different… you can read all about it here:
Discover My Secret to Getting Hard On Command, Better Than Pills…